What is Switch2Local?
The only text messaging tool you'll need! Offer deals, make announcements, reward customers, and more! The opportunities are endless! Promote your products, services, and your brand through picture based text messaging and watch the profits roll in!
Think branding is just for big companies with a big budget or big ideas? In today's world, branding is more important for small businesses than ever before! Remember, competitors can clone your products, steal your ideas, or duplicate your services. But one thing that they cannot copy is your brand. It's unequivocally yours.
Switch2Local promotes your brand one message at a time!
Read More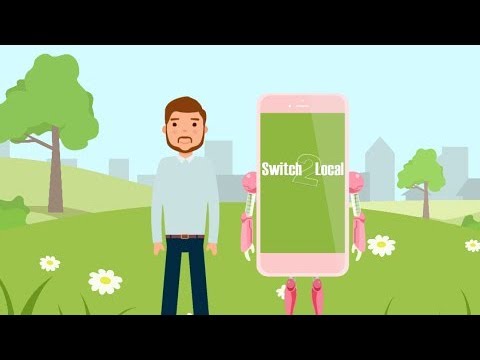 Text DEMO1 to (916) 414-9825
Our Advantages
Why Us?
Other mobile marketing solutions leave you hanging and fending for yourself with their complicated platforms. Switch2Local is different. Not only do we provide ready-made designs for you to easily customize, but we have video tutorials throughout our platform, live chat, and unmatched customer support. We've got your back!
See our ready-made designs. Need something custom just for your business? We do that too! Contact us to learn more.
Want to reward your customers? We have a great loyalty/rewards program that is easily catered to your business. You no longer have to compete with other businesses for customers using third-party rewards programs that aggregate customers for their benefits.
You own your customer list fair and square - no sharing required
Learn about all of the great tools Switch2Local has to offer for your business!
See Key Features
Key Benefits
Vague, cryptic, or short text messages leave customers wondering who you are and might consider you a spammer. Instead, use Switch2Local picture-messaging service and communicate a thousand words in a single message!
Blast Your Offer Everywhere!
Simply choose a design, easily add in your photo and details, and automatically receive printable flyers for your storefront, get shareable social media and web imagery to post online, and spread your offer everywhere!
Get Instant Feedback!
Don't wait weeks from direct mail or email blasts to hear from your customers - mobile offers allow your customers to react and respond instantly! Communicate via text message on your phone without exposing your personal cell phone number.
No App Required!
We removed the complicated mess of requiring your customers to download an app to receive your offers. Say no to apps!!
Cancel Anytime!
Don't want to be locked into a contract? No problem! We offer a simple, month to month option where you can cancel at any time with zero hassles!
General Questions & Answers
We don't have a customer list...
Most of our customers start without a list. We help create their initial list with a very simple step-by-step process. It's easy for a business to add 100+ consumers to their account in less than a week!
Do my customers need to download an app?
No. That's one of the reasons Switch2Local is superior over its competitors. It takes the hassle out of the whole process. You simply send a picture text message to their phone with your offer. When they come in to redeem it, you can either see the offer on their phone, or look up their cell phone number through the redeem tool! Our platform does all the tracking for you!
Do I need to learn new technology?
For premium subscribers, we manages all aspects of Switch2Local campaigns. You'll only need to learn how to use the redeem tool, which is super simple. For other subscribers, we have short easy-to-follow video tutorials that guides you every step of the way!
I already have a loyalty program!
That's great! We can easily import all of your data for your customers into our system. Whether it's Fivestars, or another program, it's not a problem to copy over all of the customer's existing points, etc into Switch2Local. Then, you have the benefit of using just one resource for all of your advertising and loyalty needs!
MMS Message Designs
Take a peek at some of our professionally created picture-message (MMS) designs, ready for your personalization! When you sign up for Switch2Local, you have access to hundreds of templates, no designer needed!
Click on any of these designs to customize and send to your cell phone!
Not sure about us? No problem. Try us for free for 30 days!